Who is Matthew Raven?
An awkward existential crisis wrapped up in a dated Japanese Punk aesthetic, multi-talented cat-enthusiast Matthew Raven is blending his background in classical and theatrical music with a passion for indie rock.
Recently graduated from Sydney's leading contemporary music university, the Australian Institute of Music, Matthew Raven's performing background is as diverse and eclectic as his Spotify playlist.
Growing up in the country, he played the violin from a young age, performing with high praise in Eisteddfods across North Queensland. Inspired by film music and theatre, Matthew Raven then moved on to vocal, piano and acting training before landing his first role as an understudy in North Queensland Opera and Music Theatre's production of High School Music.
Moving to Sydney to further his studies, Matthew completed a semester of acting training at the Australian Film and Television Academy before continuing on to the Contemporary Songwriting course at the Australian Institute of Music, where he graduated with Bachelors in 2018. Blending this background in classical and theatre with a contemporary lineup and natural aptitude for unique, quirky lyrics, Matthew Raven is now set to take the Australian music scene by storm with his upcoming releases.
While studying, Matthew Raven has found success in his
critically acclaimed
performances as Claudio in the Genesian Theatre Production of Much Ado About Nothing, as the Musical Director and MC of New Theatre's F*cking Men and in numerous live music performance spaces across Sydney including the Marrickville Festival, The Basement (RIP), Australian Music Week Festival, Youth Music Festival and Guy Sebastian's Luna Park Christmas Fundraiser.
​Matthew Raven is currently playing
gigs
around Sydney, solo and with his bands, Matty and the Ravens and NICQ.
​
He is based in Surry Hills and lives with a cat named Jigsaw. She's got a bad attitude, but he loves her anyway.
---
Powered by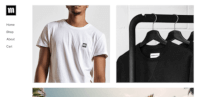 Create your own unique website with customizable templates.